Belated Anzac Day post
It wasn't
Anzac Day
ten years ago when I was waiting for my train on the southbound platform at
Wollstonecraft station
on Sydney's North Shore. But I'll remember Anzac Day to you now because there was a kindly looking old man in a
Digger's
hat selling paper
poppies
from a box that day. It was a pretty November morning, and the
jacarandas
were littering the platform, as is usual that time of the year. Maybe it was the sight of the purple flowers that prompted me to go buy a red paper one from the old Digger. When I did, he asked me where I was from. And when I said
'Singapore',
he said to me in Hokkien,
'Li Ho Boh?'
(How are you?), and
'Selamat Pagi'
, in Malay.
'I was at Changi and at Selarang'
, he explained, responding to the big, silent question mark on my face. Pity my train came
uncharacteristically
on time, or else I would've loved to have talked at length about his time in Singapore. That Digger's story is part of our history, and like a lot of things to do with our history, we've got to rummage around our spanking new
National Libraries'
archives/vaults/depositories before we can hear these important voices. I second mr brown's
proposal
to bring these voices to the fore. It will be interesting. And at the very least, we'll see that
our history
isn't mired geographically.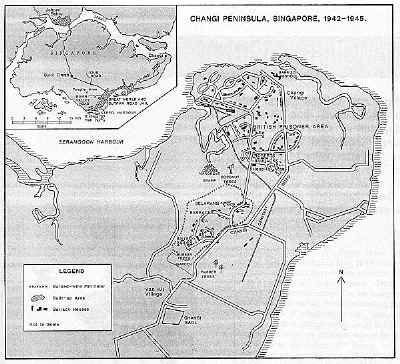 Changi Peninsula
the mr brown show April 27th 2005
. Or via subscription
here
.